This formula's main purpose is to restore the skin through lymphatic stimulation, circulation, and by reducing inflammation.* These factors are key in the healing of eczema and other inflammatory skin conditions. This formula contains herbs known for their wound-healing properties that are traditionally used for chronic skin conditions, skin elasticity, and strengthening of connective tissue.*

This formula is best paired with a dairy-free diet. Refer to the Detox Recipe e-Booklet for recipes that support this formula.
What's Inside:
All of our ingredients are 100% organic and wildcrafted herbs, straight from the earth.
Burdock Root: Stimulates the lymphatic system and is used to treat swelling and chronic skin diseases that involve inflammation.*
Cleavers Herb: Stimulates the lymphatic system and regulates inflammatory responses.*
Saw Palmetto Berry: Promotes collagen production and supports skin elasticity and wound healing.*
Sarsaparilla Root: Strengthens connective tissue and is used to treat skin conditions that involve red, hot, and inflamed tissue.*
Gotu Kola Leaf: Supports upper body circulation, regulates inflammatory responses, strengthens connective tissue and is used to treat skin conditions that involve red, hot, and inflamed tissue.*
Plantain Leaf: Speeds healing of skin and mucous membranes.*
Calendula Flower: Stimulates the lymphatic system. Used to reduce skin inflammation and itchiness, and as an antifungal and anti-bacterial.*
Turmeric Root: Anti-fungal and anti-bacterial that promotes wound healing and regulates inflammatory responses.*
Prickly Ash Bark: Promotes circulation to the extremities (hands and feet) and is used to reduce nerve pain.*
Ingredients: Burdock Root, Cleavers Herb, Saw Palmetto Berry, Neem Leaf, Sarsaparilla Root, Gotu Kola Herb, Plantain Leaf, Calendula Flower, Turmeric Root, Prickly Ash Bark
Other Ingredients: Vegetable Cellulose
Suggested Dose: Adults take 2 - 3 capsules per day. 
WARNING: Not to be taken while pregnant or breastfeeding.
*DISCLAIMER: Information and statements about this product have not been evaluated by the FDA and are not intended to treat, cure, or prevent any disease. Consult with your qualified healthcare practitioner before using any herbal product, particularly if you are pregnant, nursing, or taking any medications. Use at your discretion.
Customer Reviews
05/28/2021
Ale S.

United States
Works wonders on psoriasis
I've struggled with psoriasis my whole life and have been on a biologique (injectable) for the past year.. I'm now off the biologique and on my second round of this formula and I haven't had any out breaks since. I've finally found an all natural solution to my psoriasis and couldn't be happier!! Thank you Sheela!
04/14/2021
Hind

Canada
Not a magic pill
I had very high hopes when I purchased this product but to my disappointment it didn't improve my eczema, in fact it flared up while I was taking the pill. I don't think this is a solution for your eczema and I just recommend you take vitamin D3 supplements instead. p.s I am vegan, so I wasn't having any dairy as recommended and I reduced my sugar intake.
02/23/2021
Natasha N.

United States
I'm so glad I found Food Over Drugs!
I am on week two of the month-long regimen with the eczema formula. I've dealt with eczema since I was a baby and have always been prescribed extremely potent steroid creams that thin my skin and seem to make my flares worse over time. I started tapering off the steroid creams after my last skin infection and started taking this eczema formula and let me tell you! My skin is healing in a way I've never seen before! The texture of my skin has changed from extremely rough to much softer and even kinda glowy?! The hyperpigmentation is reducing significantly. The itch has gone down from a 9/10 to a 3/10. I am so so so so so happy to have found this amazing formula and cannot thank you enough for creating this product. I could cry!!!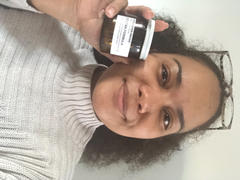 02/23/2021
Maryceleste H.

United States
This is magic!!
I have been suffering with stress/environmental eczema for well over a year. I have tried everything! I went to see my allergist and my regular doctor and per usual I was prescribed creams and pills that would only mask the issue. I was left with skin pigmentation issues from all the steroids I had been using in the creams. I don't even remember how I came across Food over Drugs, but I thank God I did. I had been praying so hard for something to help and I felt called to purchased the Eczema pills. LET ME TELL YOU- 6 DAYS!!! 6 DAYS is all it took for my eczema to be 80% clear. I HAVE NEVER HAD SUCH AMAZING RESULTS!!! I am a firm believer of natural organic holistic products. If you have eczema- PLEASE PLEASE PLEASE do yourself the favor and buy this. If you were at a point like me, what do you have to lose. I had nothing to lose and everything to gain. I stopped my lotions and relied solely on this and prayer. And they were answered! Thank you so much for creating an amazing product that has given me my self confidence back!!!!!!!! I can wait to see what my skin will look and feel like once I'm done with all my pills!!!